Wing in a New Year of Profits:
The Benefits of Adding Chicken Wings to your Pizza Concept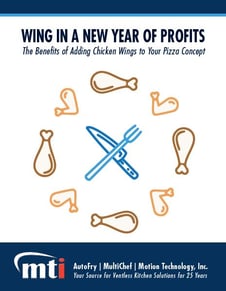 If there is one thing you can count on American's continued interested in, it's pizza. Thin crust, thick crust, brick oven, deep dish, sweet, savory and everything in between, there is almost no type of pizza we won't try. And there is just one appetizer that has almost become synonymous with pizza: chicken wings.
The lowly chicken's wings were once regarded as the worst part of the bird. It wasn't until a bar in Buffalo, NY decided to toss an accidental order of wings in a spicy sauce for hungry bar patrons that the wing took off as a viable appetizer.
Since then, wings have grown in popularity, so much so, that there are now entire establishments with menus built around wings. So delicious and satisfying, it's rare to see a pizza menu (or any menu, for that matter) that doesn't have their own variation on the chicken wing. And if your menu is lacking an option for wings, now is the perfect time to consider adding it to your line up. Wings are highly profitable and a great up-sell opportunity for staff to score larger ticket orders.
Of course, there are some variables to consider before taking the leap into the wing arena. With this white paper we will guide you on the path to wing production and sales. We will explore the challenges and benefits of selling wings so you can feel confident knowing what to expect and how best to prepare. We'll also give you some promotional tricks of the trade to take your wings sales soaring. Fill out this quick form to download our free white paper.