Thrilling Guests with Food:
The Benefits of Adding a Food Program to Your Attraction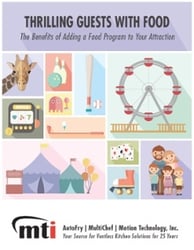 Amusement facilities and attractions come in all shapes and sizes, from large scale amusement parks, to small mom and pop bowling lanes, to zoos and state parks. And while size may be a variance among them, they all share a common goal of providing interactive entertainment to the masses and bringing joy to each person who walks through their entrance. One method to bringing consumer happiness that is often overlooked by businesses is quality attraction foodservice.
Adding food and beverage can often seem like a big undertaking due to the complexities of installation and implementation. But with a well thought out action plan, any size operation can be outfitted for attraction foodservice.
When done right, food and beverage can supply the second largest stream of revenue for an attraction. Of course there are some factors to consider before implementing a food service strategy and promoting your new food menu. To read more on how you can add a food program to your business, fill out the short form to access your free download.