Increase Revenue with High Profit Food Sales
MultiChef makes cooking simple and safe for your employees!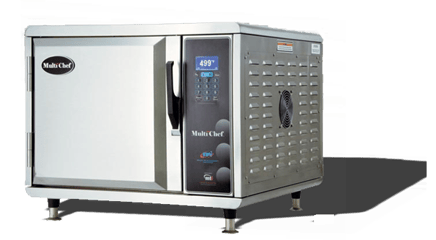 MultiChef is the high speef oven allowing you to expand your menu with just one peice of equipment. MultiChef can cook, toast, reheat, roast, steam, melt and even bake! Our expert knowledge of in the kitchen solutions industry has allowed us to help countless restaurants, bars, FECs, cinemas, attractions and more, reach new heights with the addition of fresh baked foods to their line up.
With MultiChef you can say goodbye to soggy crust and hello to happier customers! Unlike traditional high speed ovens, MultiChef cuts cooking time by up to 75% without the use of microwaves. With a unique combination of convection, direct infrared and Rotary Air Impingement, MultiChef allows you to cook at a high speed without sacrificing food quality.
Plus, because MultiChef does not use microwaves you can open the door and add more food while current food continues to cook, allowing you to cook more food in less time! With an easy to use interface, you'll simply add your food to the cooking chamber, enter a cook time or choose one of 100 available presets and hit start. MultiChef will alert you 10 seconds before your order is complete and again at completion. No need to stand by and watch - let MultiChef manage the kitchen for you!
If your business could benefit from additional profits, why not give foodservice a try? High profit items like pizza and chicken wings are the perfect fit for any menu. Check out our MultiChef Menu to see the types of items you could be serving with just one new peice of equipment and how easy it is to start driving additional profits with food sales. Or simply fill out the form on this page to recieve a hassel-free price quote and start loving your oven!
Check out MultiChef in action at NRA - Booth 5409