AutoFry Weekly Cleaning Guide:
A Pictorial Guide for Performing Weekly Cleaning on AutoFry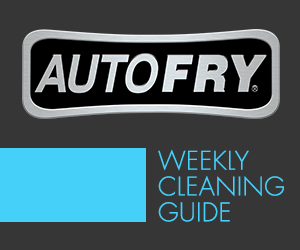 Weekly cleaning of the AutoFry, fully automated, ventless fryer, should take less than 30 minutes and will help to extend the life of your AutoFry.
In addition to extending the life of your fryer, clean machines run more efficiently, are less likely to break down, produce higher quality food output and prevent the spread of food born illness. For these reasons we have produced a two page cleaning guide to show how to clean your AutoFry weekly.
In fifteen short steps, you can have a clean machine that is ready to operate. In addition to your daily cleaning routine, we recommend cleaning your machine weekly in the morning while the equipment is cool to maintain AutoFry for optimum use.